Pensamiento Arrecife
Material investigation.
Pensamiento Arrecife or "Reef Thought" (material research) brings together various interests that we have at Lazum. We gave ourselves time and space to explore manufacturing processes and materials. At the same time we kept visiting local reefs and doing research on reefs and coastal ecosystems.
This project marks our transition towards using ceramics as the final material for the objects we design on the computer. We use printed objects to make molds for the ceramics. We also explore techniques such as ceramic printing with LDM 3d printer and ceramic resin printed on SLA printer.
The sculptures and objects were designed with a dual function in mind: art object and reef restoration prototypes. We started from the idea of creating surfaces where coral polyps can establish themselves in a laboratory environment. To later be installed in restoration sites.
From electrons to ceramics
The reef agenda is also solar electric
As an off-grid solar workshop, we are excited to share with you that we managed to burn ceramics using the energy from our off-grid solar electrical system. Being able to produce ceramics without burning any wood or fossil fuels is crucial for this project, since burning, and the release of carbon is one of the main causes of global warming that affects our planet, the ocean and specifically the reefs.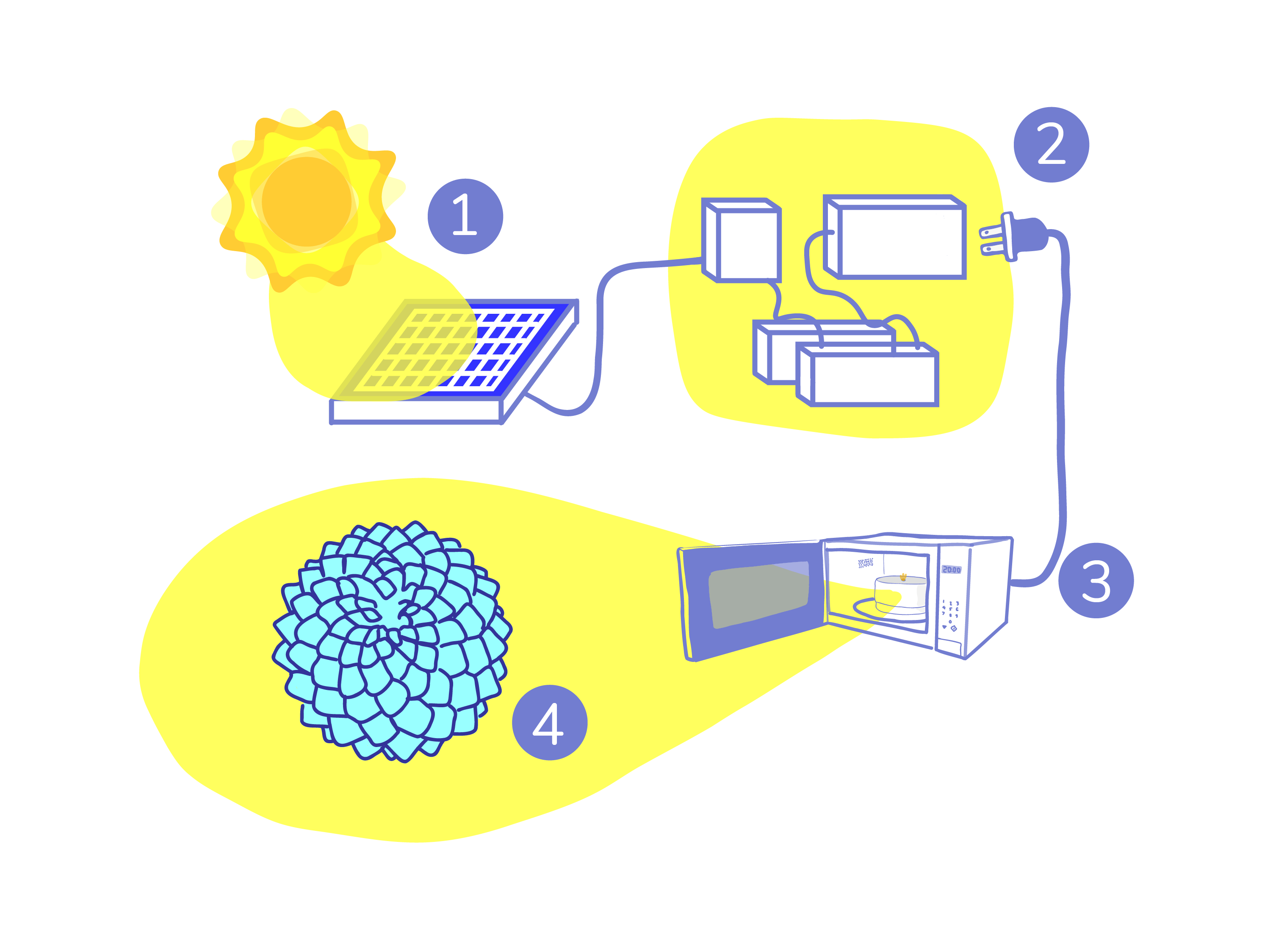 Solar panel receiving energy from the sun.
Charge controller, batteries, inverter.
Conventional microwave with microwave kiln insert.
Final piece.
We use a modified microwave kiln, this allows us to stay within the capacity of our electrical system and in turn removes the burning of wood or fossil fuels from the ceramic burning process. We propose the use of this type of kiln as an alternative to make ecological or low-emission ceramics.
Arrecife Sensorial
In celebration of biodiversity
We formalized our reef documentation under the name Arrecife Sensorial. A bank of high resolution audio visuals taken mostly off the coast of Vieques.
If you work with corals / reefs in PR or the Caribbean, we would like to collaborate and get feedback. You can contact us at hola@tallerlazum.com
Pensamiento arrecife (material research) is supported in part by the National Association of Latino Arts and Cultures, the Andrew W. Mellon Foundation, the Ford Foundation, Southwest Airlines, the Flamboyan Arts Fund and the Surdna Foundation through a grant from the NALAC Fund for the Arts Grant Program. Thanks!